Posted on August 16, 2014 by John
Got videos hosted on YouTube, Vimeo or Viddler that you'd like to share with clients as part of their coaching program with you?
CoachAccountable now lets you share such media (as well as audio clips hosted at SoundCloud) right within the system itself, allowing for seamless delivery of video and audio content in your programs.
To do this, simply add the video or audio clip to your Library by pasting in whatever embed code is provided by the hosting site.  YouTube's embed code for a given video, for example, can be found under Share:

Once you've got the embed code, paste it into area indicated for adding embedded files, like so: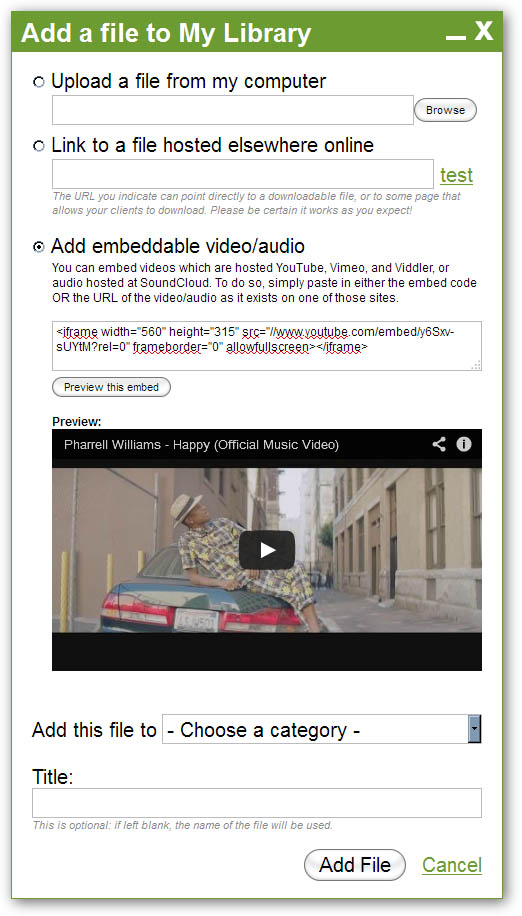 Hit the preview button, and if CA is able to recognize the code as a valid embed from one of the 4 supported sources (again, YouTube, Vimeo, Viddler or SoundCloud) you'll see the media right in the preview.
Video and audio files which are added this way will behave a tad differently for you and your clients when shared.  Instead of a Download button, you'll see a Watch or Listen button.  Click that and the media file opens right up within CoachAccountable:
Like with other types of shared files, CoachAccountable keeps track of if and when your client last accessed embedded files.
This started out as an experimental feature, unlocked for a few coaches a while ago.  It's pretty sharp and ready for prime time now, but even so I'm open to adding other established sites for hosted media beyond the 4 that CoachAccountable currently recognizes and supports.  If you know of one that I missed which would be useful to you, let it be known!
More recently: CoachAccountable turns 2 today!
Previously: Customer Raves: Michael Leahy