Posted on July 16, 2019 by Morgan
If you're a coach who uses CoachAccountable, you likely already know that you have a freebie client: a client account you're not billed for, useful for testing out content and coaching yourself.
If you're a coaching organization using CoachAccountable's Team Edition, each one of your coaches is also entitled to a freebie client.
Why Use a Freebie Client?
Most coaches find freebie clients useful for two types of activities: testing out coaching material and self-coaching.
Test Out Coaching Material
When you send an item to a client, you probably wonder how it lands. Using the freebie client to test your coaching content can help you adjust assignments' timing, frequency, difficulty level, and more, based on your actual experience engaging with your content. If you've been with CoachAccountable a while, you may have already learned the benefits of ironing out content delivery with your freebie client first. Consider that the same benefit will be instrumental in your coaches' grasp of and usage of the system.
Self-Coaching
Coaches want development, too! Your coaches can use their freebie clients for self-coaching. This is a great spot to keep that certification to-do list, measure progress on a daily meditation goal, journal about learnings gleaned from sessions, and, well, everything else the system does.
How to Set Up Your Free Clients
As an administrator of a Team Edition account, you can set up the freebie client for your coaches.
Add the freebies in just like normal clients by going to your Team Dashboard >> + Client. Using a handy naming convention like [coachFirstName] + Tester makes it easy to distinguish between the accounts later.
Key steps:
Assign to himself. The freebie client must have himself as a primary coach.
Make sure to use the same email address that the coach account uses.
(If you accidentally don't set the coach as the primary coach of his own client account, you can do this in Pairing (more on Pairing here). Access Pairing from either your Coaches tab or your Clients tab.)
Finally, link the two. You'll be brought right to the Manage Client screen, where you'll see a tab for Freebie Client. Click the "Sounds great…" button and you'll be all set!
If you've accidentally closed out of this dialogue, don't worry. From the Team Dashboard >> Clients, click Settings for that client. You'll see the Freebie Client tab.
Don't see the Freebie Client tab? Double check these things:
You've used the same email address as the coach account
The coach is the primary coach of the intended freebie client
You're entering into the Settings through the Team Dashboard's Clients list (not the Coaches list).
Now, to double-check it worked as expected, go to your clients list and refresh. You'll see the blue "freebie" banner across that client.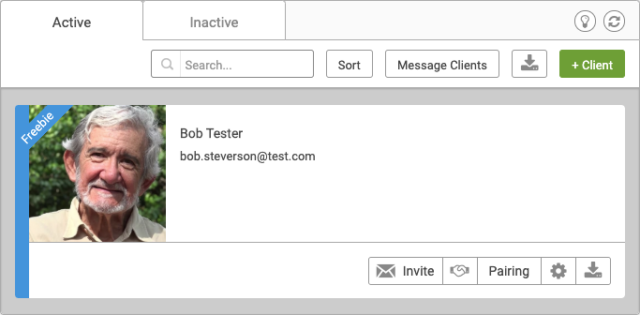 Bonus: Train Your Coaches with Freebie Clients
You can also utilize these freebie clients for coach training. One way to do this is set up a Group for all the coaches and enroll all their freebie clients as members. That way you can assign items to the group, have a discussion between all the coaches, have some friendly competition tracking a Metric, and all the other benefits of Groups.
If you use CoachAccountable's Team Edition, we highly recommend giving each of your coaches a freebie client. Your coaches will thank you, and you may even find yourself surprised by some great suggestions for usage of the platform as the coaches get familiar with both sides!
---
With CoachAccountable's Team Edition, all your coach accounts are free, and they each get a free client, too. Try it out for 30 days at no charge.